Welcome in the place where every your dreams can become reality.
We are Maria Rita (GrandMa) & Grazia (Grace), Founders of "Magie di Carnevale".
Maria Rita, Mother of Grace, started in the mid of 70s the activity in Venice as a craftswoman, creating artistic jewelry with glass.
But the artisan tradition belongs to our family since Generations, her grandfather was a Marble Craftsman and her parents produced ceremonial favors and costume jewelry.
With the rebirth of Carnival in the early '80s Maria Rita ventured into the production of porcelain dolls, papier-mâché masks and reproduction of period costumes, opening a small shop-laboratory of her own where with patience and imagination the first creations were born.
Grace has continued in the footsteps of the family and, after completing her Arts studies, we have expanded our activities by opening the current headquarters of "Magie di Carnevale" a few steps from St. Mark's Square, in the heart of Venice, Italy, where together we produce a wide assortment of paper-mâché and ceramic masks and alongside the traditional style, always new decorations to ensure our customers the novelty and uniqueness of our products.
With the study of the history of Carnival and Costume we have also specialized in the manufacture of dresses and dolls that are to be considered unique pieces and unrepeatable because they are made entirely by hand.
In the hope of satisfying your expectations, We invite you to observe our creations.
Maria Rita & Grace
---
Our Staff members:
Grazia, Maria Rita & her daughter-in-law, Elisabetta
Our MISSION:
In a world that changes quickly, and where technology and automation are the masters, our mission is to keep alive the traditional Art, the true "hand-made".
The great power recognized in Venice as a point of exchange has its origins since 800 B.C..
With the "rebirth of the year One Thousand" the population in continuous increase required an increasing supply of goods and services, so the number and activities of craftsmen and schools that regulated the Arts and Crafts increased.
And Today in Venice there are few artisans who have collected the heritage of the "Serenissima" (the old name of the powerful Venice) and who continue to carry on the Tradition adapting it to the new forms that the city has assumed and continues to assume.
For Us recovering what is Tradition and updating it means becoming aware of our past, to trace the path we have taken and to better direct our future.
---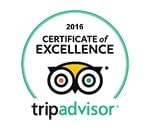 Magie di Carnevale – TripAdvisor Certificate of Excellence